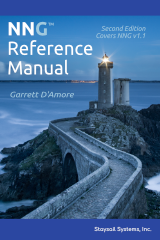 Written by Garrett D'Amore
This manual is the authoritative and official reference for the NNG project, encompassing the entire set of manual pages produced for the project.
Availability
While the content is available as part of the NNG project, you can also purchase a paperback desk edition, or electronic book formats compatible with all popular e-readers.
Purchases of this book help defray the costs incurred in producing it and keeping it updated, and also help fund further development of NNG itself.
Format
Availability

Paperback

eBook
Errata
The errata for this book are here.
Translations
At this time only English is available. If you are interested in translating this content, please let us know!